Avocado Deviled Eggs
Makes: 6 servings
Turmeric helps reduce inflammation and supports the production of stem cells, which have the capacity to create any kind of tissue needed in the body, including collagen. Garlic and cilantro also contain beneficial sulfur-containing compounds to support optimal collagen production.
INGREDIENTS
6 eggs, hard-boiled and peeled
1 avocado, peeled, pitted and diced
¼ tsp sea salt
¼ tsp pepper
1 tsp turmeric
¼ tsp garlic powder
¼ tsp chili powder
¼ tsp cumin
2 tbsp lime juice
2 tbsp fresh cilantro, chopped
DIRECTIONS
Cut eggs in half and remove yolks. Add yolks, avocado, salt, pepper, turmeric, garlic, chili powder and cumin to a bowl. Mix until well-combined. Spoon mixture into egg-white halves. Drizzle with lime juice and top with cilantro.
Nutrition Facts (per serving): 133 calories, protein 6 g, fat 11 g, carbs 3.5 g
Slow-Cooker Bone-Broth-Braised Beef with Garlic and Thyme
Makes: 6 servings
Bovine bone broth contains high amounts of collagen as well as glucosamine, chondroitin and hyaluronic acid, all of which help promote joint health and aid your body with its natural healing processes.
INGREDIENTS
2 tbsp avocado oil
1 lb beef round roast, fat trimmed
½ tsp sea salt
½ tsp pepper
4 cloves garlic, minced
2½ cups beef bone broth
1 (15 oz) can tomato sauce
3 tbsp Worcestershire sauce
¼ cup maple syrup
5 sprigs thyme
DIRECTIONS
Add avocado oil to a large pan and place over medium heat. Add meat to pan and sprinkle with salt and pepper. Cook 4 to 5 minutes, or until lightly browned. Remove and set aside. In a medium bowl, combine remaining ingredients and add to a slow cooker. Then add meat and cook on low 8 hours.
Nutrition Facts (per serving): calories 270, protein 31 g, fat 9 g, carbs 13 g
Paleo Sour Gummies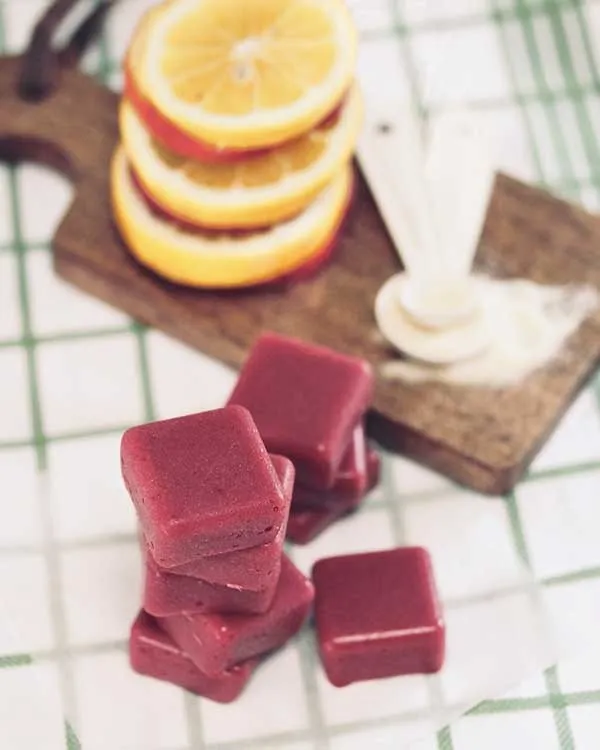 For 3 gummies: 73 calories, 15 g carbs, 12 g sugar, 2 g protein
Since powdered gelatin coagulates in cold liquids, it's the perfect collagen-rich food to make homemade sour gummies. Pop a couple of these delicious citrus candies in your mouth for an extra boost of protein, collagen, and vitamin C.
HOW TO MAKE THIS YUMMY CANDY FIRST YOU NEED
Gelatin Flavor of Your choice
Or peel oranges and lemons for sour and put in blender til it is smooth consistency.
add some lime juice and a pink of salt. Blend on high 1- 2 minutes.
Pour half the liquid into a saucepan and add your gelatin and a couple of scoops of Self by Traci K Beauty Hydrolyzed Collagen Grass Fed Peptides. or ( a gelatin-based collagen powder of choice).
Heat over low heat until the mixture is warmed (not hot) and the gelatin has mostly melted, about 3-5 minutes max. CAUTION: leaving the mixture over too hot of heat will quickly activate the gelatin and cause your mixture to turn into a thick sludge.
Pour the warm mixture back into the blender and blend again until smooth, about 30 seconds. Then portion the liquid into silicone ice cube molds (like these shown above) or any baking dish (you can cut them yourself). Refrigerate for 2+ hours before removing and consuming, this will give enough time for the gelatin to solidify the gummies. Keep refrigerated up to 2 weeks.